Sponsored Post: Looking Good on the Run
Admittedly, I do look like a slob a lot of the time, but I do try to put in some effort. This applies to running and the gym too. However, this is an extra challenge. Because what can you really do besides cute clothes? I am not going to bother with doing my hair or make-up becaue they'll be ruined within minutes. My new secret is earrings. A good pair of studs makes you look like you tried a little, without going overboard, and they don't get in your way.
So when my blogger pal
Kim
mentioned that
Anjolee
which specializes in all kinds of diamond jewelry from
wedding rings sets
, to
anniversary bands
, to necklaces and earrings, was working with bloggers to promote their products I pounced.
I knew I wanted earrings, but I still spent quite awhile exploring their site. I love their customizable wedding rings. I know the BF and I have only been together for six months, but a girl can dream. P.S. If he asks any of you, I like the
Radiant Princess Cut
.
Once I was done dreaming, I moved on to more immediate possibilities. I decided to go with the
Classic Three Prong Diamond Studs.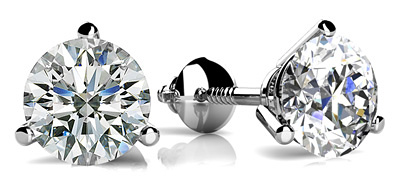 They came yesterday and I LOVE them. They came packaged really nicely.
I wore them running this morning and when I looked in the mirror when I got back the first thing I noticed was not my red sweaty face, it was the bling in my ears!
Do you care about looking "nice" while running?